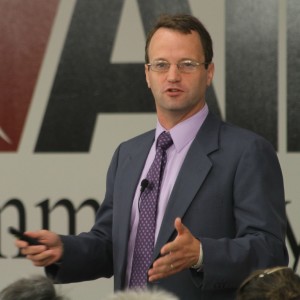 Eric Meade helps nonprofits, businesses, and foundations apply next-generation approaches to strategic planning, innovation, organization design, and leadership development. He delivers on client outcomes through inclusive and innovative facilitation as well as by contributing his own insights based on experience and on his unique, long-term and forward-looking perspective. With authenticity, courage, and a sense of humor, he willingly steps into the most challenging situations or group dynamics.
Eric's recent projects include designing and facilitating an innovation session for HIAS, facilitating a scenario-based 20-year master planning process for the Howard County (Md.) Department of Citizen Services, conducting an organizational assessment and redesign for the Oncology Nursing Society, developing a leadership development institute for the Society of Behavioral Medicine, leading strategic planning for the Young Adult Library Services Association, and designing the annual strategic summit of the Veterans Health Administration's National Leadership Council. Recent keynotes include the Colorado Behavioral Healthcare Council, Aims Community College, and the Missouri Association of Area Agencies on Aging.
Previously, Eric was vice president and senior futurist at the Institute for Alternative Futures, where he developed scenarios of agriculture in Peru in 2030 for Oxfam America, of health and health care in 2032 for the Robert Wood Johnson Foundation, of technology and society in 2030 for IEEE, and of vulnerability in 2030 for the RWJF Vulnerable Populations Portfolio. He also led a strategic planning process for the Society of Behavioral Medicine, facilitated a multi-sector community health initiative in Memphis, created a pro-poor scenario toolkit for the Rockefeller Foundation, and worked on numerous projects for AARP.
Eric serves on the Board of Directors of Counterpart International, a global development NGO, and is a past Board Chair of the World Future Society. He teaches strategic planning at American University's School of International Service and is on the faculty of the command course for law enforcement officers in the state of California.
Eric has published new perspectives on international development in World Future Review (Spring 2011), Monthly Developments (April 2013), and the Stanford Social Innovation Review (Oct. 6, 2014), and is a co-author (with Les Wallace, Ph.D. and Dennis Derr, Ed.D.) of Personal Success in a Team Environment, a leadership development workbook for front-line managers and staff.
Eric's previous work experiences include setting up the China sourcing operation of Melissa & Doug, Inc., a major U.S. toy manufacturer, and serving as a nuclear submarine officer in the U.S. Navy.
Eric has an MBA from INSEAD and a Bachelor's degree in history from the University of Virginia. He is a certified practitioner of the Myers-Briggs Type Indicator (MBTI) and a graduate of the Newfield Network coach training program.